Talbot County Records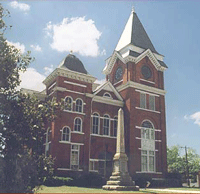 Talbot County Court House. Talbot County was created from Muscogee County on Dec. 14, 1827 by an Act of the General Assembly;vin 1852, part of Talbot County was used to form Taylor County. Also research Muscogee County. Early Settlers: William Johnston, Appleton Justice, Joseph Osgood, Daniel McNeil, Berry Mitchell, William Adams, James Holcomb, William Shipp, William Sears, Henry Snellings, Abraham Rush, Stephen Reeves, Charles S. Pace, Penelope Peddy, Sandfair Whitehurst, Seabon Webster, Samuel Wilson, Allen Walker, John Towns, George Taylor, William Teals.
Talbot County Databases Available to Members of Georgia Pioneers
Talbot County Wills 1830-1856 (abstracts).
Index to Talbot County Will Bk A 1828-1856.
Clements, Thomas, LWT (Digital Image).
Dixon, Ann, LWT (Digital Image).
Talbot County Marriages from newspapers 1885-1886.
Map of Talbot County.
Subscribe and view documents
In appreciation to all of our subscribers of "Lost Generations" blog, we offer you the lowest subscription price to Georgia Pioneers ever! 4 years for $200.00. That equates to only $50.00 a year. Unheard of. Hurry. Offer expires May 30th.
http://www.georgiapioneers.com/subscribe/bloggerspecial.html