Stewart County Wills and Estates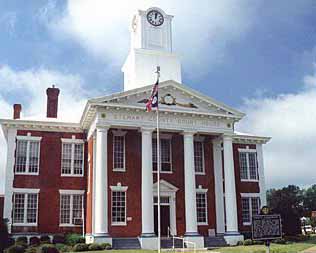 Stewart County Court House. Stewart County was created from Randolph County in 1830 Later, portions of Stewart County were used to create Quitman County in 1858. County seat: Lumpkin, Georgia. Early Settlers: Sampson L. Lampkin, county surveyor; Edward Studevant, coroner; Thomas R. Mangham, clerk of the superior court, Jonathan F. Bridges, sheriff; Joseph Williams; Sampson Bell; William C. Grimmer; Robert Applewhite: and H. M. Jenkins.
Stewart County Databases Available to Members of Georgia Pioneers
Stewart County Wills, Bk A, 1837-1849 (abstracts).
Index to Stewart County Will Bk A, 1837-1849.
Stewart County Marriages 1830-1860
Harmony Church, Richland, 1839 members.
Subscribe and view documents
Georgia Pioneers.com
Option One. One month subscription. $50.00. If you only need to view the website a short while, this subscription is for you. Automatically expires after 1-month.
Option Two. 6 months subscription to Georgia Pioneers.com - $72.00. Automatically expires at the end of six months.
Option Three. 1 year subscription to Georgia Pioneers.com - $122.00