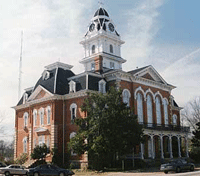 Early Settlers of Hancock County
....by Jeannette Holland Austin. Hancock was created in 1793 from Greene and Washington Counties, Hancock County. The county borders Baldwin, Glascock, Greene, Putnam (Oconee River), Taliaferro, Washington and Warren (Ogeechee River), It was named after John Hancock, a signer of the Declaration of Independence. Sparta is the county seat. Early settlers were General H. Mitchell, Bolling Hall, Charles Abercrombie, General Adams, Henry Graybill, Joseph Bryan, William Rees, Jonathan Adams, John Montgomery, Jacob Dennis, Archibald Smith, T. Holt, Thomas Raines, James Bishop, Isham Rees, M. Martin, R. Clarke, R. Shipp, F. Tucker, L. Barnes, W. Wyley, William Saunders, James Thomas, Jesse Pope, Jonas Shivers, William Hardwick, L. Tatum, Robert Moreland and William Pentecost. Hancock County should always be researched with Greene.
Hancock County Records Available to Members of Georgia Pioneers
Hancock County Wills 1804-1814 (abstracts); Index to Hancock County Wills 1862-1881;Butler, Edmond LWT (1801), digital image;
Harris, Absalom, LWT (1818), transcription, digital image;
Rudisell, Henry, LWT (1807), transcription;Rudisell, John, LWT (1850), transcription;Rudisell, John, LWT (1804), transcription;Hancock County Marriages from newspapers 1885-1886;Origins of Early Hancock County Settlers.

Subscribe and view records